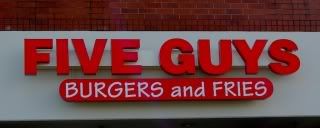 While in Virginia a few weeks ago, I fell in love with
Five Guys
, I went their twice and couldn't wait to get back to Portland and tell everyone I knew about the place.  Luckily while I was on vacation, the Beaverton location opened and had my plane not been delayed causing me to land at PDX after midnight, I would have driven straight to Five Guys.  So a few days later I drove over to Beaverton and picked up a bag of burgers and fries, the place was full, so we had to take it home and by the time we got home, well, it kind of sucked.  I found myself over near Five Guys a couple of weeks ago and I realized that it was almost 11:00 so I decided to swing in for a burger, luckily I was the second person in line and was glad that I was going to be able to grab a table, so I ordered, got my Coke and sat down to wait for my delicious burger.  Here is where shit started to go south for me, they messed up my order twice and by the end of it, the old shit head that I assume was the Manager tried telling me that I was wrong the second time, as soon as I opened the foil, a pickle rolled out and my ticket clearly didn't have pickles on it!  You would think that with 20 people working back there making burgers, they wouldn't have fucked it up twice.  I didn't give a shit because I knew the burger was going to be good and I know that it's a new place, the big big problem is this crotchity old ass hole that's mad at the world!  He honestly made me want to never step foot back into another Five Guys, but with a attitude like his, I hope that he won't be there long, because although they messed up my order, the line is always long, and there's never any place to sit, the majority of the staff is friendly and the main thing is that the burger is BAD ASS tasty and the fries are fresh and delicious.  Good news, Coke and not Pepsi, and free Peanuts!  So after that long rant, I will say that Five Guys has one of the best Fast Food burgers around, and it's worth a try, give the Beaverton location a few months to settle down and I'm sure once they get a new Manager, it will be much better.
Five Guys Burgers & Fries
2606 SW Cedar Hills Blvd.
Beaverton, OR 97005
503.430.8748