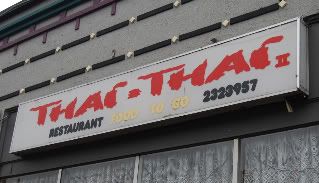 With so many Thai restaurants in this town, it's impossible to try them all, luckily, I have found a few good ones.  Thai Thai is really good, it has a pretty standard menu with all of usual delicious Thai entrees, soups, appetizers and curries.  
Chicken Pad Thai, Tofu Pad See Ew and Chicken Tom Yum are what we ordered and they were all quite tasty.  All of the lunches were $6.50 and came out of the kitchen super fast, this place is perfect for lunch, it's fast and really good.
Next time I will go for dinner and look forward to trying the Thai BBQ, Squid Salad, Fried Rice, Catfish Red Curry and the Kung Pao, I'm sure it's all good!